Visiting Landgut Moserhof in Austria
Luxury holiday on the countryside
With Landgut Moserhof in Austria, owner Gerhild Hartweger wants to bring her guests closer to the farm life while offering the utmost comfort.  She built a chalet village amid the mountains where they can experience what it's like to have a private wood-fired hot tub.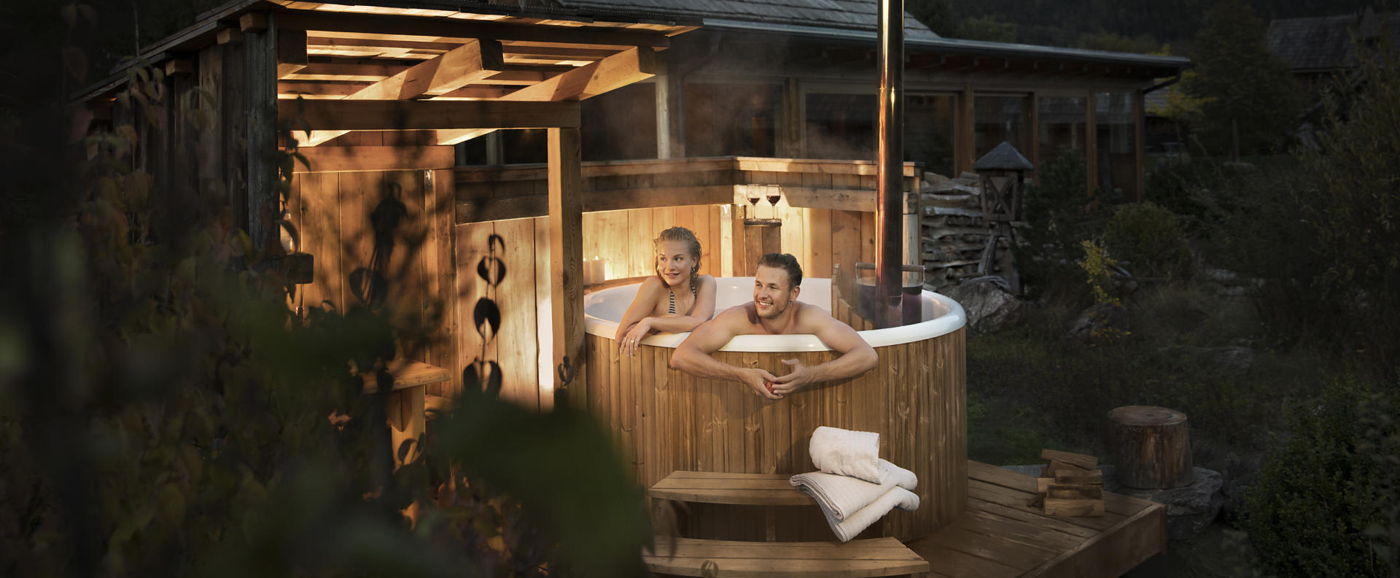 More than 15 years ago, a large fire forced Gerhild Hartweger to rebuild the tourist branch of her estate. The result was a premium holiday village that offers a vacation on the farm with a touch of luxury. "We wanted to stay true to the farm holiday theme, but still create something new," she explains.
At Landgut Moserhof, guests can explore the farm while horseback riding, feeding the animals or driving a tractor. For overnight stays, chalets in the Almdorf or mountain huts on the Hofalm, between 1600 and 1800 metres above sea level, are available.
The notion of ​​sustainability was particularly important to Gerhild Hartweger when the village was under construction. "Our vacation concept is based on it. The entire facility was built using materials that we have on the farm. For example, all the houses are made of wood from our own forest, and the furniture is made of it too, "she emphasizes. When expanding the wellness area, wood-fired hot tubs were selected accordingly. "We already had an alpine bathhouse and various saunas, but I was looking for an outdoor pool that could also be used in winter," she explains. Thanks to her sister, she discovered wood-fired hot tubs which, unlike conventional hot tubs, match their guiding principles and can be heated with wood from their forest and water from their spring.
Five chalets are now complemented with a Skargards hot tub. Four of them are the luxury Regal model and one is the classic Panel model. And there are already plans to add more. 
Hot tubs are something new for our visitors, especially since they don't have something like that at home
"It was important to me that the hot tubs were easy to use and easy to clean," she stresses. The Regal hot tub in particular is perfect in this regard. In the end, she was also won over by the design.
There is no doubt that the wood-fired hot tubs are special for the guests at Landgut Moserhof. "Hot tubs are something new for our visitors, especially since they don't have something like that at home," says Gerhild Hartweger. This is what makes them so appealing. So it is hardly surprising that the hot tubs are popular with guests, be it on summer evenings or cold winter days.
More about the hot tub: 
Skargards Panel
More about the Landgut Moserhof 
Landgut Moserhof