With Mans Zelmerlöw in his holiday home in southern Sweden
A break from the daily grind with a wood-fired hot tub
Måns Zelmerlöw won the 2015 Eurovision Song Contest with his song "Heroes". Since then, the Swedish singer has been touring all over the world. Though he is on the road for some 200 days a year, he also considers it very special to come back home to his "normal life" as he calls it. He picks up his children from school, meets with friends at the pub and, in the summer, drives his family to his holiday home in southern Sweden to spend time in nature. 2020 and 2021, he renovated his house and made space for a Skargards hot tub.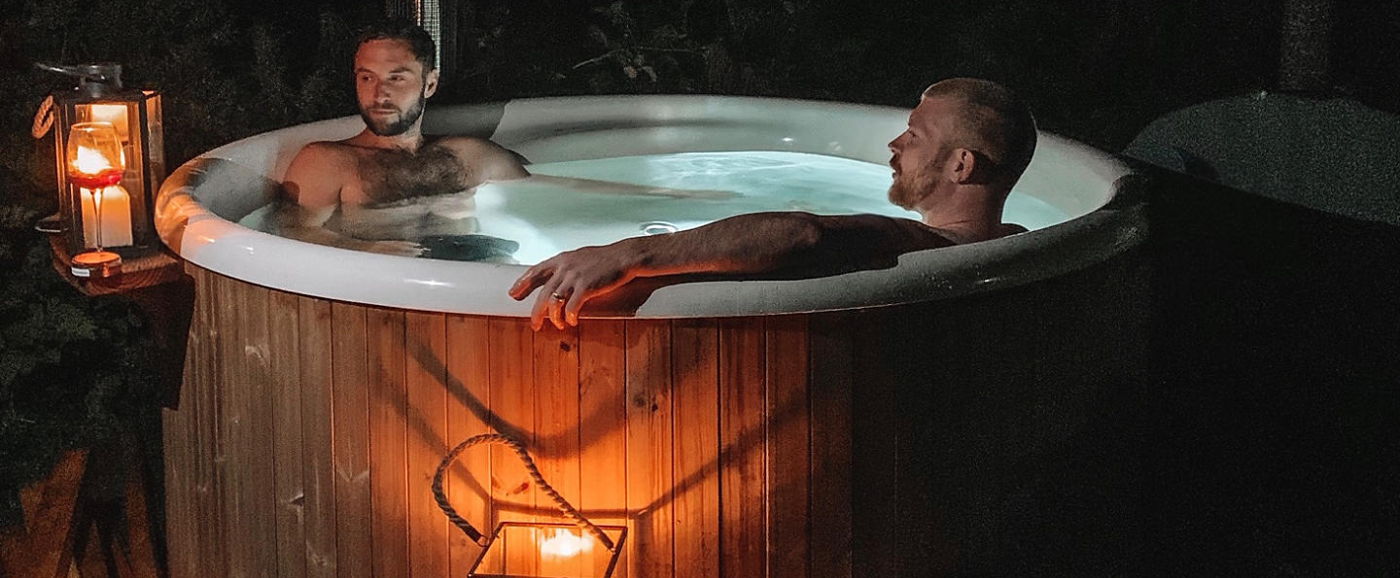 "In 2019 we bought a summer house in southern Sweden in a small fishing village," he says. His family had a house there when he was a child. "Growing up, my family had a house there and it has always been my getaway, my little paradise, where time stands still," he recalls. He fished crabs, cycled up and down a gravel road and had adventures in the forest. He now wants to pass all of this on to his children when they spend the summer there.

2020 and 2021 were very different for the singer due to the coronavirus pandemic.  Concerts were cancelled, so the singer used the time to be with his family and renovate the summer house. "The house needed a lot of work and we spent the time facelifting it while keeping the originality and feel of it" he recounts. In the garden, he found a corner with an old concrete pool where he planned to build a new spa area. He sanded and repainted everything, built a terrace and installed a Skargards Regal." Now it looks like new and will be the centre of attention this summer," he explains.
He has already used the spa area and the hot tub at least 30 times. During the 2 months he and his family usually spend at their holiday home every year, the hot tub is fired up every evening. "There's something beautiful about the ritual that goes into lighting it up, going out to put some more logs in, checking the temperature," he describes.
Måns Zelmerlöw didn't grow up with a wood-fired hot tub and the Swedish sauna culture. His parents had a sauna, but rarely use it. Instead, they took cold winter baths. His first experience with a wood-burning hot tub was therefore only a few years ago when he started hunting. There was a wood-burning hot tub next to a cabin where they stayed. "Being out in the snow all day and coming home and taking a hot bath felt like heaven," he says. He feels the heat differently than with an electric hot tub. "You can almost feel the wood burning and the heat feels less radiant, much softer". He also loves the smell and the crackling of the burning fire. You feel very close to nature.
There's something beautiful about the ritual that goes into lighting it up, going out to put some more logs in, checking the temperature.
When he turned 30, some friends gifted him a Skargards Regal for his holiday home in Stockholm. The design and the quick heating won him over, so much so that in 2019, it became clear that a Regal would be added to his new property. "I can't imagine having a summer house without a hot tub," he exclaims. He even plans on getting one for his main home in England someday.
Now that things have returned to normal, Måns Zelmerlöw is happy to be able to give concerts again. "Being on stage is such a big part of my identity and I have really missed it". Nevertheless, the singer knows that as soon as he needs a break from everyday life, all he has to do at his holiday home in Sweden is fire up the hot tub and relax.
The hot tub:
Skargards Regal