The story of Hugh and Avril
Living sustainably with a wood-fired hot tub
Once a week, Hugh fires up the wood stove of his Skargards hot tub where he can soon thereafter enjoy some quality time with his wife Avril.  In the privacy of their own warm and bubbly oasis, they can find rest with one another while admiring the view of the natural surroundings. "It's a really fun way to relax", Hugh adds. Aside from overall wellness, the couple also reaps some notable health benefits from their wood-fired hot tub. Indeed, they make use of it as a form of arthritis therapy thanks to the circulation-boosting properties of hot water.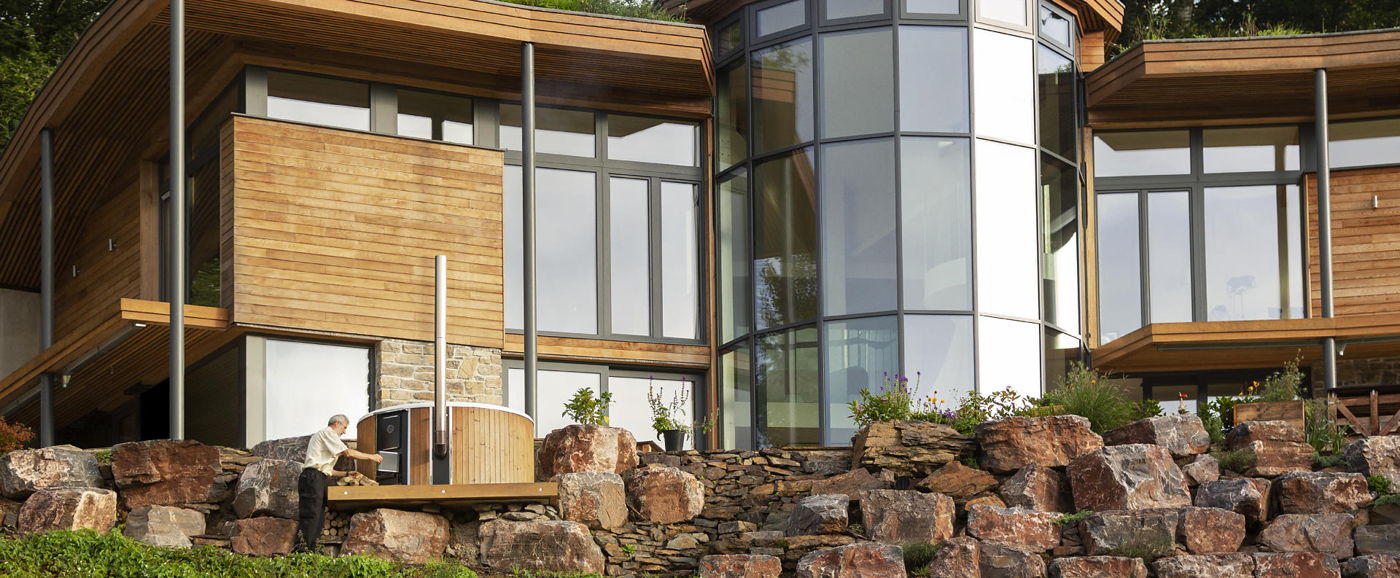 Hugh and Avril were especially keen on using the hot tub in a sustainable way. Rather than fill it with a garden hose, they source water from a natural spring on the hillside above their home. "It's water that would normally go directly into a stream. So from time to time we intercept it to fill the tub", Hugh describes. Since no chemicals are added to the hot tub water, they have even made a habit of re-using it to water the plants in their garden, after it has cooled down of course.
To fuel the wood stove, Hugh heads to his own sustainably managed woodland and proceeds to swing his axe. "Our use of firewood is very small compared to the year-on-year increase in the total woodland mass, which gives us confidence that we are heating the tub in a completely sustainable way", he explains.  
It was five years ago that Hugh And Avril started building their passive house, which is regarded as the gold standard for energy efficiency. This commitment to minimising their carbon footprint is a reflection of their principles. As they see it, "the future of the planet depends on it. Individually, we can't do much, but as optimists, we can set an example by building a house that minimises its environmental impact and still enjoy life to the fullest in it." 
In the end, they settled on a location that includes a river with a floodplain, along with both woodland and grassland. At this point in time, half of the construction work has been completed. The couple lead their everyday lives in what has become their permanent residence, where a Skargards hot tub now adorns the terrace. "We have put it in a fabulous spot in front of the house and it feels good every time we use it", Hugh points out. 
People may think having a hot tub is an extravagance, but the Skargards hot tub chimes with all our eco principles
As plans for the terrace took shape, it became clear that a conventional electric hot tub, with its long heat-up time and associated high power consumption, was not in line with their values. Hugh and Avril therefore set their sights on a wood-fired hot tub that doesn't require so much energy. According to Hugh, "people may think having a hot tub is an extravagance, but the Skargards hot tub chimes with all our eco principles. We believe it to be value for money in terms of purchase cost, and for us the running cost is zero".
The couple admits that they were also charmed by the design of the product. "The Skargards range of tubs look both beautiful and quirky. We love the simple, clean style". Since its addition to their home, they relax in the hot tub regularly and also occasionally invite friends over to enjoy it with them. "Our son got married here and the following days some of the guests enjoyed a fantastic experience in it. We're pleased we decided to go for the bubbles - it gives it a nice spa feel"
Hugh and Avril are already anticipating many years of memories that the hot tub will surely bring. "We are particularly looking forward to Christmas when we plan to enjoy a hot dip on what we hope will be a very cold day."∎
More about the hot tub: 
Skargards Regal