Glamping with hot tub at Tom's Eco Lodge
Putting the glamorous in glamping
Located on the Isle of Wight, Tom's Eco Lodge offers its guests a one-of-a-kind glamping experience thanks to luxurious tents, unique modulogs, cozy wooden cabins and, of course, wood-burning hot tubs.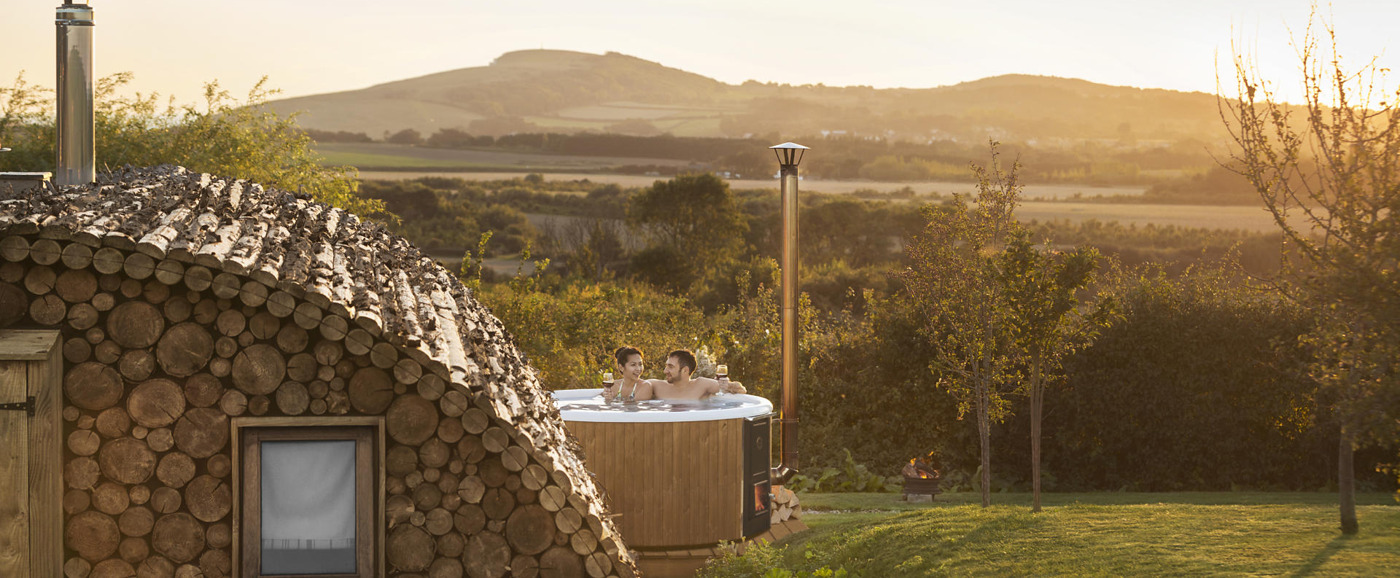 I n 2012 Tom Tourney opened Tom's Eco Lodge, a very special glamping site the middle of Tapnell Farm. "He wanted to create a place on the farm that others could share with their family to see the beautiful Isle of Wight and experience the countryside", recounts accommodation manager Chloe. It was meant to provide a brief escape from technology through luxury and comfort.
Seven years later, guests can not only relax in the cabins but also spend time doing fun activities like rock climbing and archery, or visit a small farm with alpacas, wallabies and other furry friends.
Four cabins are equipped with a little something extra : a Skargards hot tub. "We always knew that we wanted to provide added luxuries for our guests, however we also hoped to stick to our green ethos when it came to adding these extras", Chloe explains. That's when the idea of adding a wood-burning hot tub presented itself. "Wood-burning hot tubs are better for the environment".
Tom's Eco Lodge uses local, sustainably-sourced wood for the stove. The tub is filled with fresh water on a daily basis so as to avoid the use of chemicals. Aside from sustainability, Chloe sees other advantages to opting for a wood-burning hot tub rather than an electric jacuzzi. They are safer and easier to use, heat up faster and incur lower maintenance costs.
Tom and her were particularly seduced by the Scandinavian design as well as the Regal's unique stove integration. "Skargards was the only company we could find with the bottom loader", she adds. "This top specification model is perfect for child safety and its nice to be able to see the fire as well." 

Tom's Eco Lodge has been steadily gaining popularity, in part thanks to the wood-fired experience. "We'd say about 90% of our guests request a hot tub and to meet demand we have introduced more and more over the years", Chloe shares. The breathtaking view of the sunset and ensuing starry sky certainly help as well. In the future, Chloe thinks wood-burning hot tubs will become an integral part of every high-end glamping site. For her and Tom, it has become hard to imagine their lodges without them. "We will continue to have them as one of our main assets and selling points", she emphasises. It seems safe to assume that great things are in store for their business.∎
More about the hot tub:
Skargards Regal
More about the glamping site:
Tom's Eco Lodge