At home with Victoria Wade
Enjoy all seasons in your garden with a hot tub
The Garden Designer and Blogger Victoria Wade lives in South Wales with her husband Joe and their three year old daughter. The couple run their award winning design business from their home and create beautiful gardens for their clients across the country. Their own backyard got a spa update, when they bought their Regal 220 hot tub and placed it in their favourite spot in the garden, surrounded by plants and flowers.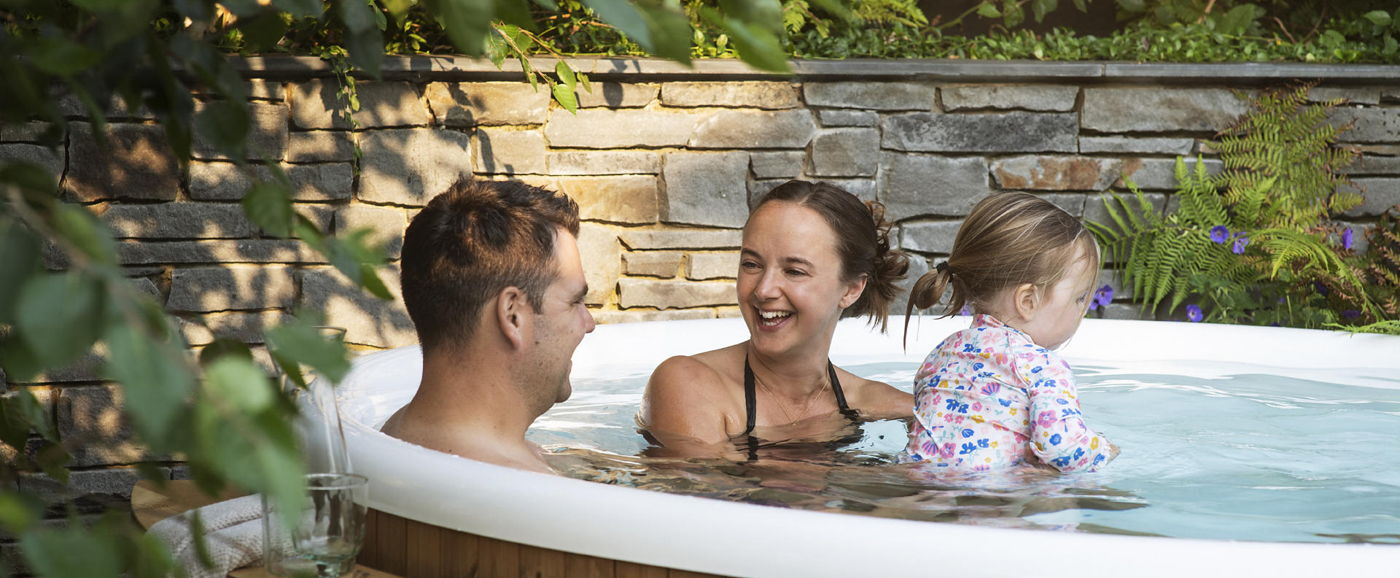 Victoria and her husband designed their garden to become their happy place. They use it all year around even with the British weather which often sees a lot of rain. They have incorporated a cosy covered seating area which sits opposite the hot tub and comes in handy on bath nights, to hold the towels and a fresh bottle of something cold and bubbly as Victoria especially loves to have her girlfriends over for a hot tub night: "It feels like we are at a weekend away in a spa!".
"There is something very meditative about lighting and maintaining a fire. We love the quiet experience of the crackling fire. It's so cosy!". It was a friend of the couple who suggested a wood-fired hot tub from Skargards, as she herself has used one for years. Now the couple schedules in 'hot tub evenings' in their shared calendar to make sure they make the time to enjoy it! The couple are especially fond of the design as well as the environmental aspect of the wood fired oven as opposed to an electric one. Victoria also has sensitive skin and is very happy that she can use fresh water without having to add any chlorine. This way, she can also use the used bath water to water all of her plants in her garden so it doesn't get wasted. They find it very easy to look after and love that there are no ongoing running costs.
Victoria's word of advice for (future) Hot Tub owners: "Plant some scented plants nearby- honeysuckle would be perfect, it smells strongest in the evening."
Victoria couldn't be happier: "We have a very busy life, running a business together with a three year old- life can sometimes get quite hectic and overwhelming. Looking forward to relaxing evenings in the hot tub makes us slow down and make time for ourselves."
The Hot Tub:
Skargards Regal

Read more on Victorias Blog:
Victorias Blog